Verminder uw Chrome-gegevensgebruik op iOS en Android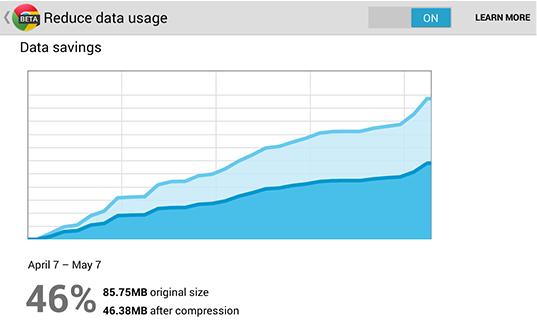 Surfen op internet op je mobiel is altijd een compromis tussen het verkrijgen van alle informatie die je nodig hebt en proberen je mobiele datalimiet niet te halen (als je er inderdaad een hebt). Chrome voor iOS en Android bevat een databesparingsfunctie die u kunt gebruiken om bestanden te comprimeren voordat ze u bereiken en uzelf enkele megabytes te besparen.
Tik op Android op de knop Meer (drie verticale stippen rechts van de adresbalk) en kies Instellingen en tik vervolgens op Databesparing om deze in te schakelen. Op iOS is de procedure hetzelfde, behalve dat de optie Databesparing zich in een extra bandbreedtemenu bevindt . Zodra de functie is geactiveerd, kunt u hetzelfde scherm bezoeken om te controleren hoeveel gegevens u heeft opgeslagen.
Illustratie bij artikel getiteld Verminder uw Chrome-gegevensgebruik op iOS en Android
Vorige maand heeft Google een officiële extensie uitgebracht voor uw desktopbrowser of Chrome OS-machine: het is duidelijk dat datagebruik hier niet zo'n probleem is, maar als u tethering vanaf uw telefoon of uw wifi fragmentarisch is, kan dit van pas komen. Het werkt op precies dezelfde manier: u zet het aan en dan kunt u het effect ervan in kaart brengen. Onthoud: u krijgt uw pagina's sneller en bespaart ook gegevens.
Door Databesparing in te schakelen, staat u toe dat uw webverkeer wordt omgeleid via de servers van Google, waar het in verschillende mate wordt gecomprimeerd. Afbeeldingen zien er mogelijk wazig uit en extra functies zoals geolocatie werken mogelijk niet. Beveiligde HTTPS-pagina's en pagina's die in de incognitomodus zijn geladen, worden niet omgeleid en niet gecomprimeerd. Kijk op de ondersteuningspagina voor meer informatie.